I made my first order with various sellers on Ebay and an online retail store in Asian but I can't remember the name at the moment. I'll post the link once I find it. The price tag for authentic Asian designer brands is a bit hefty. Although in my opinion, the hefty price tag is worth it in exchange for the quality. After all, what's the point of spending money if you are going to be wasting it on poor quality clothing that won't last more than two to three time after washing. If you want to buy something, you might as well invest in it a little so that it last longer.
The quality for most of the designer brands were decent to excellent. I wouldn't say the best of the best, no where close to high end quality brands, but in Asian standard, it is good quality. I say better than Forever21 and definitely better than Papaya and Charlotte Russe. All tags and designer labels were neatly attached.
I will review 3 items for today and more another day.
Review #1
Stock Photo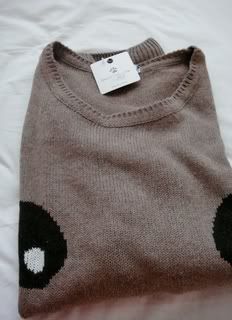 Actual Item
Rate: 9/10
Designer Brand:
CatWorld (popular designer brand in Taiwan)
This item looks almost like stock photo. The color is a little off. It looks much lighter in the stock photo than the actual item. I think the color is a bit darker in person. I would say it looks more like medium brown to light mocha? The quality is pretty good. It is soft and semi-thick (good for winter). Size wise, a little too big for petite frame.
Review #2
Stock Photo
Actual Photo 1

Actual Photo 2
Rate: 7/10
Designer Brand
: e-Style
95% like picture. Color is army green, exactly like the modeled picture. The quality and material of the shirt are good. Everything looks exactly like the picture
EXCEPT
the size! The shirt is really big. I expected it to fit better. This could pass as a US-medium. Overall, I like the shirt but it doesn't fit me.
I also like that it comes with the belt. The belt is super cute.

Review #3
Stock Photo

Actual Photo 1

Actual Photo 2
Rate: 9/10
Designer Brand: Puffy (Popular designer brand in Taiwan)
Good quality blouse. Material is made of cotton and polyester. Lightweight but not see through. The ruffles give the blouse a soft stylish look. Again, it is a bit loose/big for petite frame.
Overall, all three items had really good quality fabric and great craftsmanship but since they were all FREESIZE, none of them fit me.
FYI:
These would not fit well on anyone who is petite.